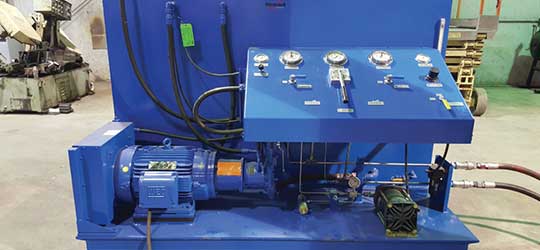 In order to serve the diverse needs of our customers, our shop is outfitted with state-of-the-art equipment. Our machinery is instrumental in allowing us to deliver a wide range of repairs, as well as customize hydraulic components to the specifications of our customers. Any components that need to be replaced are remanufactured back to OEM specifications. Our shop houses the following equipment:
---
Sunnen HTA-6100 Horizontal Honing Machine, 2″-24′ ID x 40′ long
Yuasa FX-4120A Hollow Spindle Lathe, 24″ chuck x 14″ Spindle Hole x 40′
LeBlond Makino 26/9-HS Regal, 21″ Chuck X 9″ Spindle Hole
Mazak 24-120 Lathe, 20″ Chuck x 4″ Spindle Hole x 10′ Bed
Kingston HL4000 Lathe, 15″ Chuck x 3″ Spindle Hole x 15′ Bed
Weiport W560 Lathe, 18″ Chuck x 3″ Spindle Hole x 8′ Bed
G&L Horizontal Boring Mill, 3'x 9′ Bed
Victor Universal Milling Machine
4 Manual Disassembly Tables w/6 HD Chain Vises, cylinder link capabilities 45′
Womack System Test Stand, 10,000 PSI
Master Cut S-300 HB Band saw, 12″ Diameter
Stanley G&P Polishing Lathe, 24″ Chuck x 40′ Bed
Lincoln MIG Welder, Lincoln TIG Welder, Miller TIG Welder
5 Ton Proserv Overhead Crane
Two 2 Ton Gaffey Jib Cranes
One 1 Ton Gaffey Jib Crane
Safety Clean Model 81 Parts Cleaner
WTC HCRS 3P Assembly and Disassembly Table, Maximum Length 20′
Custom-Designed
Do you have a need for custom hydraulic equipment? Advance Hydraulics, LLC is able to answer the call for custom-designed and -machined equipment, specific to your hydraulic system or application. Our extensive range of equipment and broad-ranging expertise make us the foremost authority for specialty work, and our results speak for themselves.
Custom Hydraulic Equipment
Not every cylinder, pump or motor is a one-size-fits-all solution for your hydraulic needs. If your application falls outside the bounds of an OEM product, contact our team. Our shop is equipped with the machinery and skilled professionals to fabricate totally turnkey solutions. We're adept at machining, design and modification, specializing in custom hydraulic cylinders, and providing services throughout Texas, Louisiana, Arkansas and Oklahoma.
Need Hydraulic Equipment
Talk with a member of our team today about your hydraulic component needs. We'll work with you to repair, remanufacture and modify a solution that meets your expectations and serves the unique purpose you need it to. Contact us directly at 832-288-4223