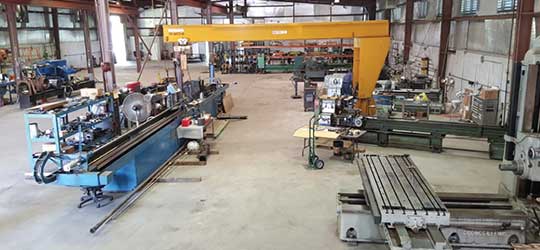 The safe operation of your hydraulic system depends on the integrity of its many crucial parts. As soon as your system shows pressure loss or experiences a malfunction with any of its essential components, contact Advance Hydraulics, LLC. We deliver a complete scope of hydraulic services, from cylinder inspections to hydraulic repairs in Houston, TX:
---
Emergency hydraulic repairs
Pressure testing up to 10,000 PSI
TIG and MIG welding
Outer diameter (OD) grinding
Hard chrome plating
Honing up to 40′
Machining
Milling
CNC Machining
Straightening
Line Boring
1 Ton Flatbed Truck
40′ Gooseneck Trailer
Barrel Material up to 16″ Diameters in Stock
30′ Gooseneck Trailer
20′ Flatbed Trailer
Two 8000 lb Forklifts
Four 3/4 Ton Pick-up and Delivery Trucks
Chrome Rods up to 7″ Diameters in Stock
Our Experience In Repairs
Advance Hydraulics repairs cylinders for top brands of equipment in a broad range of industries. Listed are just a few: Liebherr, Grove, Terex, Demag, Link-Belt, Tadano, Caterpillar, John Deere, Hitachi, Komatsu, Kobelco, Case, Clark, Hyster, Harris, Sierra, LaBounty, Genesis and Parker.
Repairs & Remanufacturing
We repair and remanufacture all types of cylinders for broad industries. In our cylinder department we can handle any type of cylinder repair. All cylinders are repaired or remanufactured back to OEM specifications.
Hydraulic Repair Specialists
Let Advance Hydraulics, LLC meet your hydraulic needs fully and completely. Whether it's a repair on your cylinder, pump or motor, we'll gladly provide you with everything you need to ensure the smooth operation of your hydraulic system. Contact us today at 832-288-4223.